Best Men's Hairstyles for Using Pomade
Men have been styling their hair since ancient times. And while styles, preferences, and grooming products have changed over the years, one thing remains the same — you're going to need some pomade if you want to look Sharp and Savage!
Pomade is the key to getting the exact look you want to impress your lady or just feel confident when you're out on the town. Self-confidence is crucial to achieve your goals, and everyone can agree that feeling good about your hair plays at least a small part in that confidence.
But what's the right hairstyle for you? In the following sections, you'll learn about some of the best men's hairstyles for using pomade so you can start experimenting with your own hair to achieve the perfect look!
Tips to Remember When Using Pomade
Before we get into the best pomade hairstyles for men, it's important to understand the basics. Pomades — like the all-natural pomades we make here at Lox & Company, LTD. — behave differently than your traditional chemical-laced, water-based hair gels. You'll need the following tips if you want to achieve the best results.
Choose Your Hold Strength
Hold strength refers to how strongly the pomade keeps your hair in place after styling it. Pomades come in a variety of hold strengths, because different hairstyles call for different hold strengths to achieve them. Some people prefer lighter holds, while others want the strongest hold possible. It really comes down to your hair type and the type of hairstyle you're going for.
Lighter hold pomades are ideal for more casual, natural-looking hairstyles, when it's okay if the hair moves a bit throughout the day. Stronger hold pomades are for when you want to hold your hair in place with hardly any movement, which is ideal for slicked back hair or hairstyles with some verticality.
There is a spectrum of pomade hold strengths between these two ends of the spectrum, so you can get the perfect hold for your hair type and chosen hairstyle. Note that you may end up trying a few different hold strengths before finding your favorite.
Choose Your Desired Sheen
Sheen refers to how shiny your hair will be after using a certain pomade. Your chosen sheen is strictly a matter of personal preference. If you want a shiny, greaser look, then you'll need a high sheen pomade. If you want your hair to retain more of its natural appearance, then you'll want a low sheen pomade.
Things get interesting when you consider that pomades can be nearly any combination of hold and sheen. Want a strong hold with a medium sheen? There's a pomade for that. Want a light sheen with a classic hold? There's a pomade for that, too. Have fun trying different pomades to strike the perfect balance of hold strength and sheen for your needs.
Get Your Hair Ready
Before scooping out some pomade and applying it to your hair, make sure your hair is ready. Pomade works best with towel-dried hair that is just slightly damp. This moisture will help the pomade spread throughout your hair more easily, which is the key to getting the best results.
You can use pomade in dry hair, but pay special attention to avoid uneven application. You definitely don't want your hair to be soaking wet when using pomade, as this can cause the pomade to have a hard time adhering to your hair. It's best to play it safe and use your pomade in slightly damp hair, especially if you're just starting out with pomade.
Get Your Pomade Ready
Pomade offers a completely different experience compared to traditional water-based gels, so if you're new to them, you're going to want to know how to get yours ready to be used in your hair.
All-natural pomades like the ones we make here at Lox are temperature sensitive, which means that they'll be harder when cold and softer when warm. Before scooping out some pomade, we recommend getting your pomade to a more malleable temperature. There are four tricks we like to use here at Lox:
Warm water trick: Submerge your tin of pomade under warm water until the pomade is soft.
Blow dryer trick: Plug in a blow dryer and use it to soften your pomade. Easy does it!
Pocket trick: Place your tin in your pocket for a few minutes, and your body will naturally soften the pomade.
Heater trick: Place your pomade tin on top of a room heater for a few minutes. Careful though — the last thing you want to do is forget about it and come home later to liquid pomade!
After your pomade reaches a more malleable consistency, scoop a small amount out and rub it between your hands until it becomes shiny. Then you're ready to apply it to your hair!
5 Hairstyles for Men to Try Using Pomade
Now that you know the basics, it's time to learn about some great men's hairstyles to try with pomade
1. Textured Pushback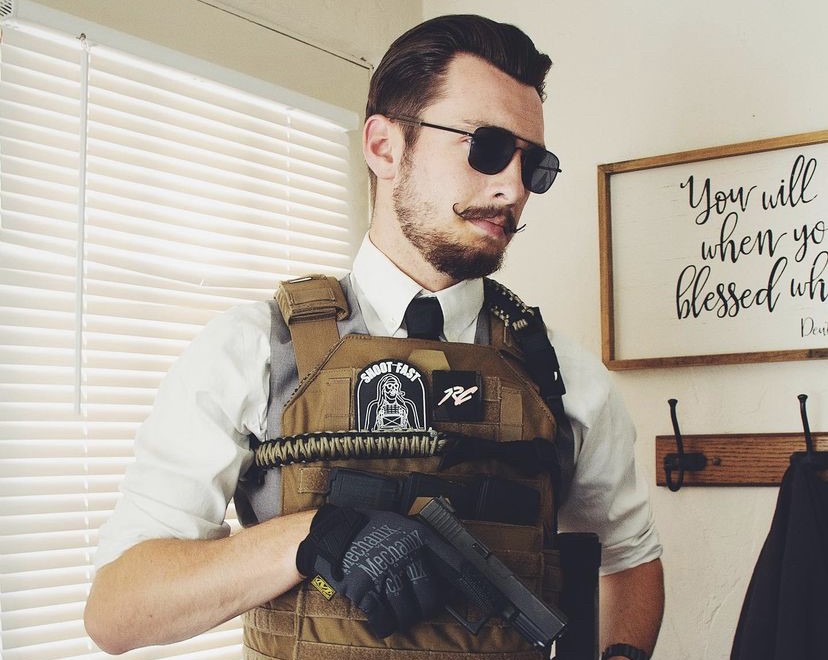 This casual hairstyle is great for achieving more texture in your hair. It works with a variety of haircuts, but especially ones with a bit more length on the side for you to hold back with some pomade.
To achieve this look, you'll apply the pomade to your hair starting from the back and bringing your hands to the front. It will look like you're giving yourself bangs at first, but once the pomade is evenly distributed, you'll run your fingers through your hair in the other direction — front to back. This will hold your hair back while providing volume and texture.
2. Classic Slickback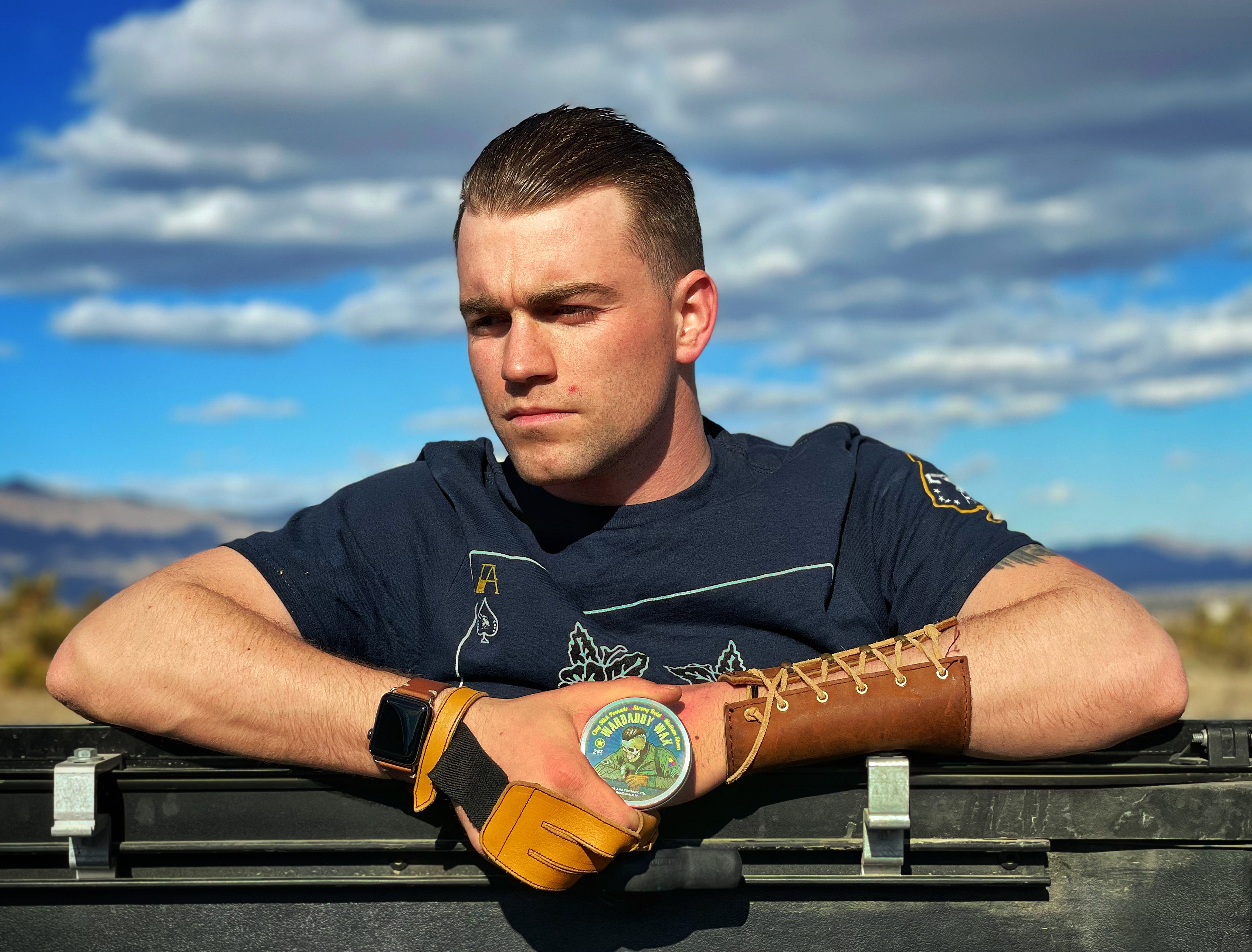 The classic slickback is a bit more formal than the textured pushback and requires hardly any extra effort. To achieve it, you'll do the same process outlined for the textured pushback, but instead of using your hands to bring your hair back, you'll use a fine-toothed comb. This will make your hair look smoother and flatter, which is ideal if you're going for that "greaser" look.
3. Combed-Over Side Part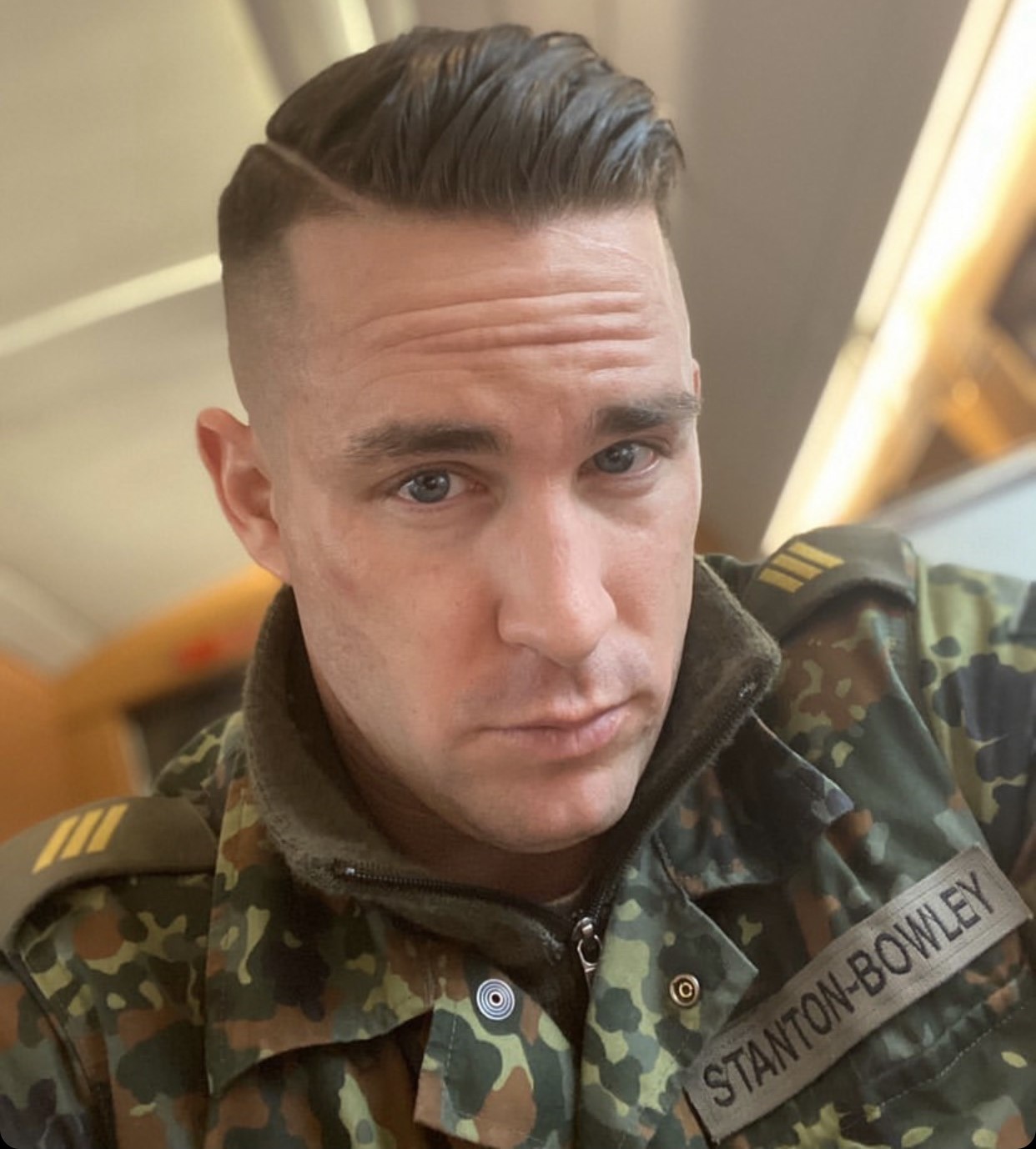 This hairstyle takes the classic slickback a step further to accentuate your hair's part. It's a bit more of a sophisticated look that was popular back in the Roaring Twenties.
Follow the same steps as classic slickback, but instead of bringing your hair straight back with the comb, you'll run the end of the comb along your hair's natural part to bring it out. From there, you'll comb the top of your hair over, achieving the side part!
4. Pompadour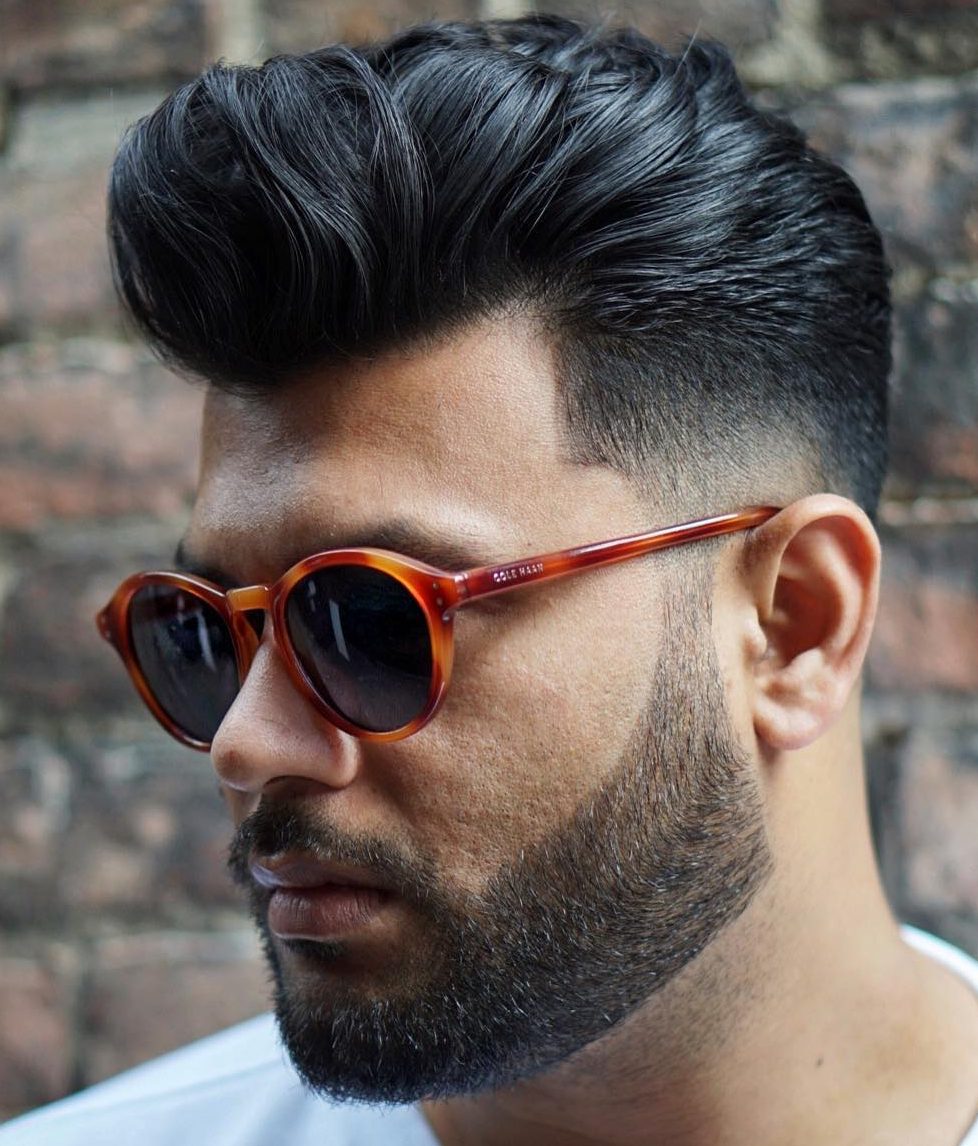 The pompadour men's hairstyle is all about layering. It's a bit more complicated than the previous three hairstyles, but with your trusty pomade and a little practice, you can get it right!
Start with the combed-over side part, but keep bringing the comb back through your hair, followed by smoothing the hair out with your hand. Do this repeatedly, as you build layers of pomade in your hair. Your hair will begin to keep its form as you continue to comb, smoothen, and layer more pomade in.
For the top, after you've layered plenty of pomade in, you'll bring the hair straight up with a comb and gently lay it back on itself. Doing this repeatedly will build volume, and you should start to see the classic pompadour look taking shape.
Finally, you'll do the finishing touches on the back of your head. The goal is to get a "ducktail" look, and you'll achieve this by ensuring the sides of your hair are going straight back and then down toward the bottom center of the back of your head. The hair on the top of your head will come straight back over the layers made from the hair on the sides of your head. This may take practice, but you'll get it in time!
5. Faux Hawk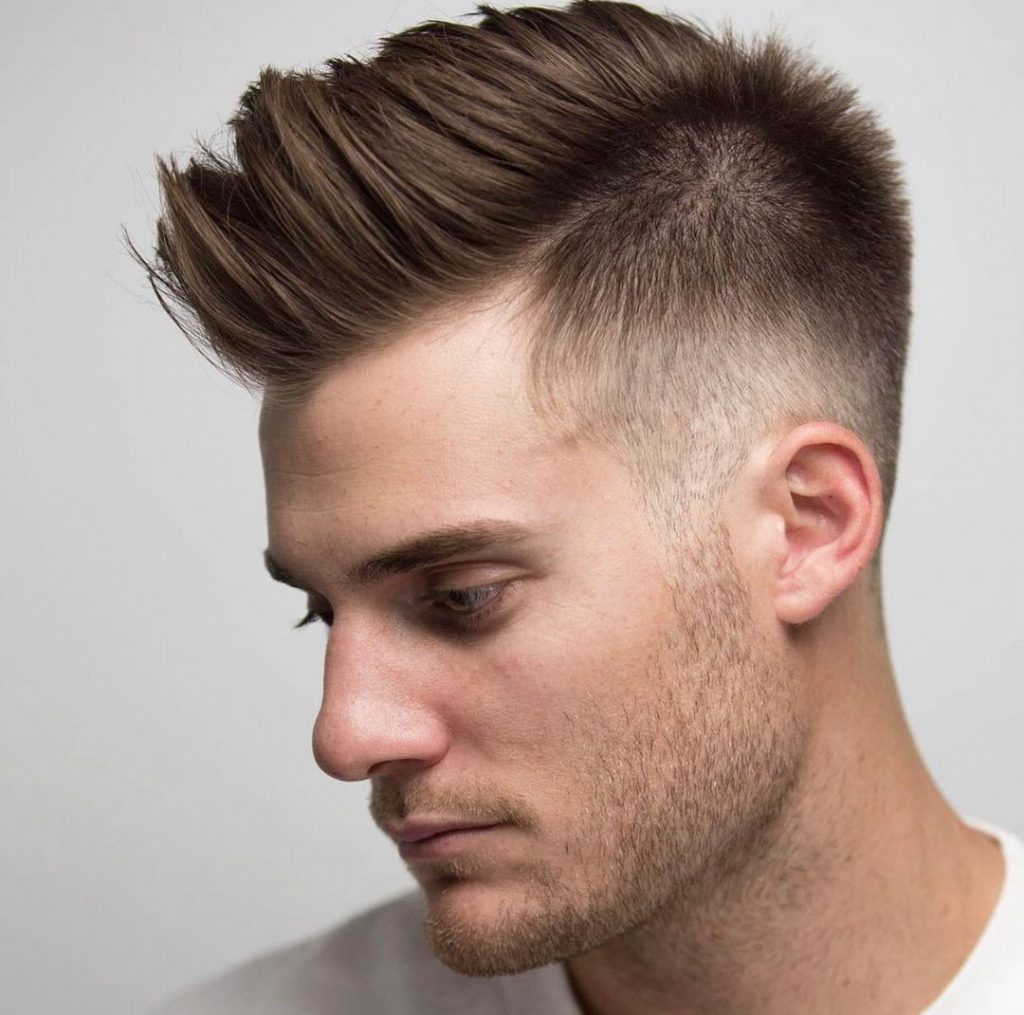 For a sharp punk look, the faux hawk is one of the best men's hair styles for using pomade. For this hair style, you'll need to shave the sides of your hair. Some guys prefer fading the hair up to the top of the head, while others like more of a contrast between short hair on the sides and the longer hair on the top.
You'll apply the pomade to the hair on the top of your head, using a comb or your fingers to bring the hair together toward the middle and slightly forward. It's a great look for achieving texture in your hair while looking Savage at the same time.
What Pomade Should I Use to Style My Hair?
The answer to this is entirely up to you. But now that you know more about sheen, hold strengths, and five of the best men's hairstyles for using pomade, here are a few pomade options for you to consider:
Choose Lox & Company, LTD. for All Your Grooming Needs
Whatever sharp men's hairstyle you choose, we have all your grooming needs covered. From our classic pomades and styling creams to our high-quality combs and savage apparel, you'll find everything you need to look great and feel confident. Visit our store today, and feel free to contact us with any questions!