Clean Cut Savages: VOL. I
5 THINGS YOU DIDN'T KNOW ABOUT AUDIE MURPHY
Everyone knows Audie Murphy is a certified American hero. After lying about his age to get into the U.S. Army, this Clean Cut Savage became the most decorated American soldier of World War 2. But here are 5 things you probably didn't know about Audie Leon Murphy.
1. His Tombstone Keeps a Secret
Being born in 1925, Audie Murphy was just 17 years old when he joined the U.S. Army. However, since the minimum age to officially join the military was 18, he had his sister falsify his birth documents to say he was born in 1924 in order to make him eligible for service. This falsified birthdate is presently recorded on his tombstone in Arlington National Cemetery.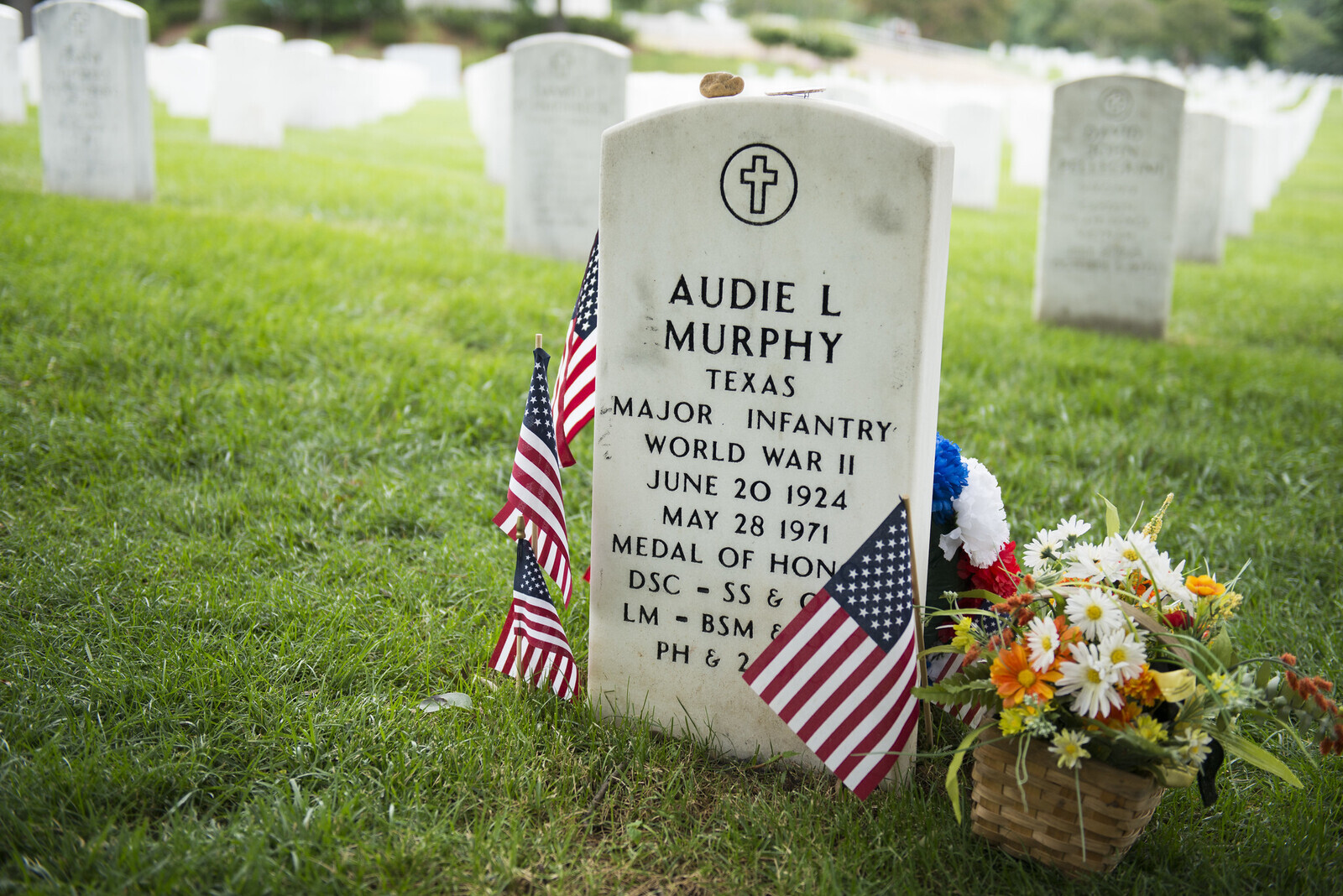 Photo Courtesy of Arlington National Cemetery
2. Self Quarantined
After the war, Audie suffered severely from Post Traumatic Stress Disorder. Sadly, he quickly became addicted to sleeping pills. Determined to overcome his reliance on drugs, Audie locked himself in a hotel room for seven days and broke his addiction.
This is a testament to his strong will and determination which undoubtedly helped him on the battlefield. As you may know, he remained on top of a burning tank firing its mounted .50 cal machine gun at the advancing German infantry. Knowing the tank could blow up at any moment he continued to fire at the enemy until he ran black on ammo.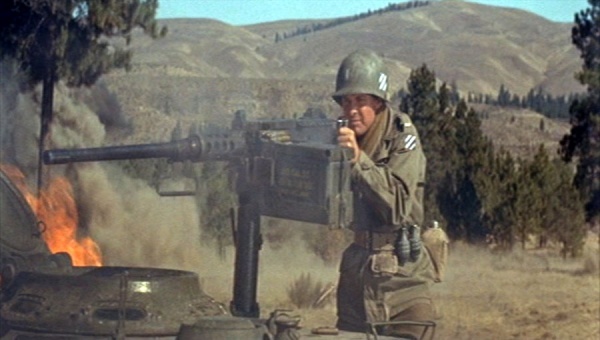 Photo Courtesy of To Hell and Back starring Audie Murphy as himself.
3. Morals Can't Be Bought
Welcomed home as a national hero, Audie Murphy was constantly in the spotlight. He even pursued and excelled in an acting career. He plays himself in the World War 2 movie, To Hell and Back. However, most of his acclaimed praise in acting came from his role in the bookturned- movie Red Badge of Courage in 1951.
Perhaps one of Audie's most commendable moments came from the parts he didn't play. Turning down multiple commercial offers from alcohol and tobacco companies, Audie refused let himself become a bad influence on younger audiences. He was well aware of the impact he had on others and made a moral decision to not promote unhealthy lifestyles.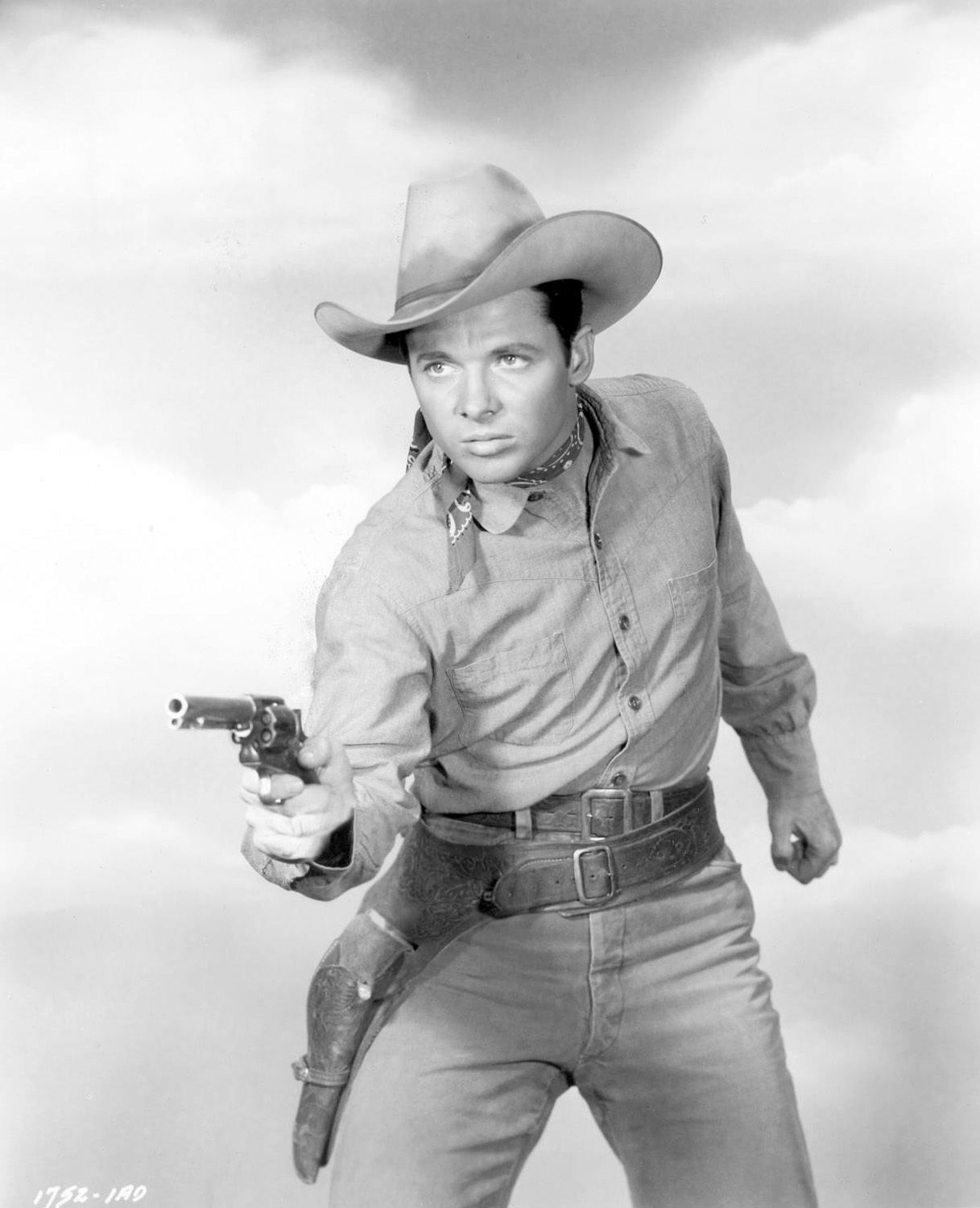 Photo Courtesy of Grit TV
4. Warrior Poet
It's no surprise, but a little known fact is that Audie Leon Murphy wrote poetry. Why no surprise? Because by now everyone knows this man was extremely talented all around. Audie wrote many poems, but was a harsh self critic. He threw most of his work away, unfortunately, and only a few poems remain to this day. Here's one titled, "Alone and Far Removed."
Alone and far removed from earthly care
The noble ruins of men lie buried here.
You were strong men, good men Endowed with youth and much the will to live.
I hear no protest from the mute lips of the dead.
They rest: there is no more to give.
So long my comrades,
Sleep ye where you fell upon the field.
But tread softly please
March O'er my heart with ease.
March on and on,
But to God alone we kneel.
5. Humble Resting Place
The final thing that you likely didn't know about Audie Leon Murphy is perhaps one of the most powerful. It is customary to decorate Medal of Honor recipients' tombstones in gold leaf—and rightfully so. However, Audie (MOH recipient) humbly requested a normal tombstone that of an ordinary soldier. In spite of his humility, his gravesite is the second most visited in all of Arlington (the first being that of President John F. Kennedy). In fact, so many visitors come to pay their respects to Audie's grave that the cemetery installed a concrete walkway to accommodate so many people coming and going.
I was raised to respect, appreciate and value those who sacrificed much defending freedom. Audie Murphy was one of my favorites. I had the honor of visiting Arlington National Cemetery a few times and I always make my way to his gravesite. I believe it should be a school requirement for every American student to visit Arlington National Cemetery. Perhaps we would all be a little more grateful for the freedoms we have and a lot more angry at the liberties being taken away from us.
Here's to one of the greatest Clean Cut Savages ever to don an Army uniform. I hope you enjoyed this blog. How many of these 5 things did you already know about Audie Murphy?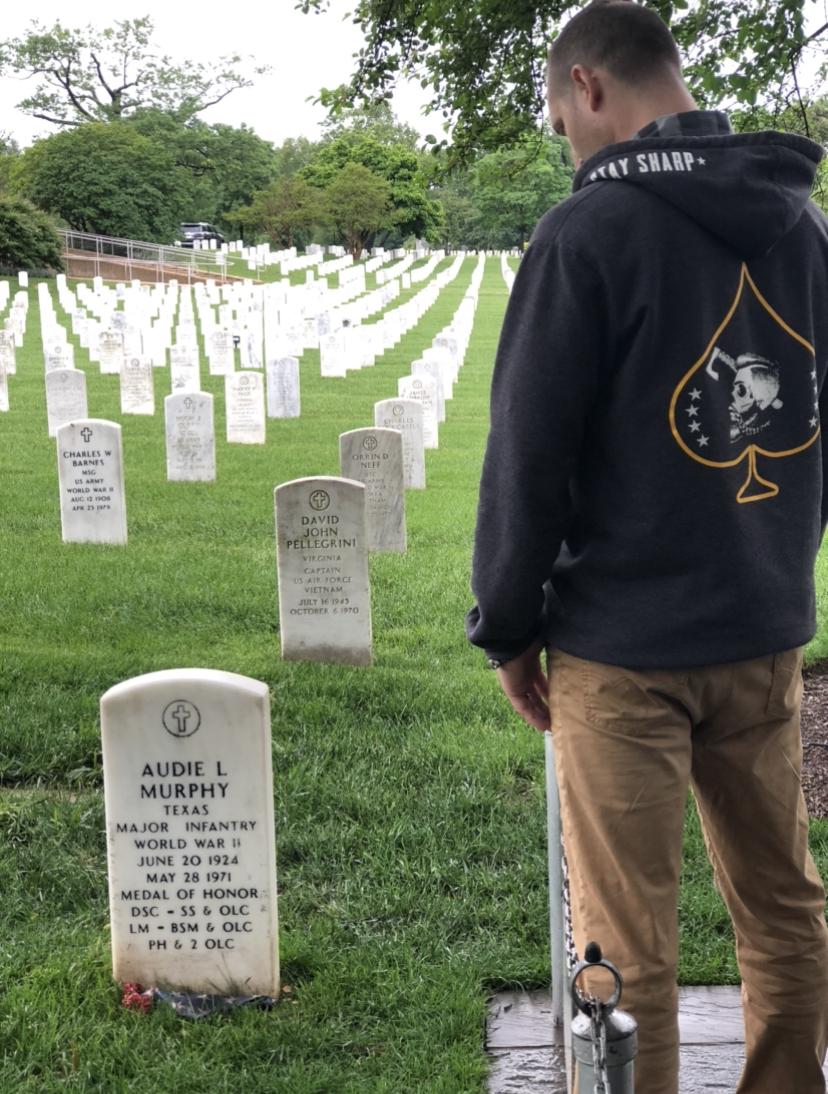 The Godfather visits Audie's gravesite at Arlington National Cemetery 2019