What's the Best All-Natural Beard and Mustache Care Product for You?
Whether you're just starting to grow facial hair or you have a truly righteous beard hanging down in front of your chest, you have to take care of it to look Sharp and Savage. But what's the best product to use to get the best results? People ask us this question all the time — specifically, which of our all-natural facial hair products they should be using. We decided to clearly lay out the differences between them for the benefit of all posterity.
We offer four lines of incredible beard and mustache care products. All you have to do is choose the one that will work best for your needs. So without further ado, here is an overview of our all-natural beard products so your beard can look, feel, and smell its absolute best!
Beard Butters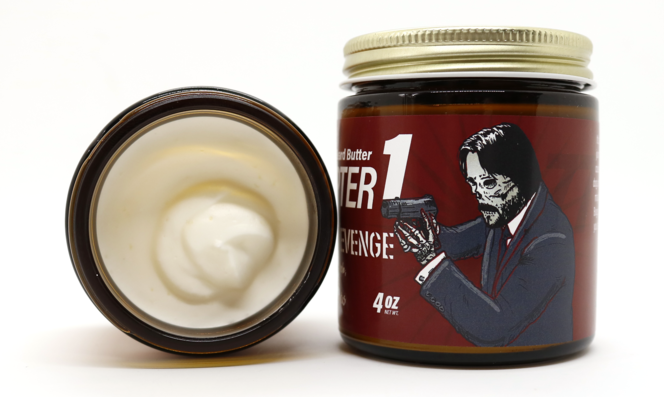 If you want to tame your beard but aren't looking for the texture of beeswax, then we have a solution for you — beard butters from Lox! We understand that sometimes, you just aren't in the mood to put beeswax in your beard. On those days, scoop some of our beeswax-free beard butter and experience the smoothest breakdown ever.
Our beard butters are creamy, soft, and packed with the vitamins that your beard is craving. And with three amazing scents, you may be tempted to rub them all over your body. Follow that urge, because our beard butters double as a hair conditioner and body moisturizer! As you can see, there are many reasons why our beard butters are our best-selling beard care products!
Some guys have said that they've experienced less dandruff and itchiness from their beard after using our beard butters. They'll make your beard feel clean, light, and smooth — kind of like the beard balms themselves! And since they smell great, you can feel confident in your beard all day long.
Check out our currently available beard butters by clicking here!
Beard Oils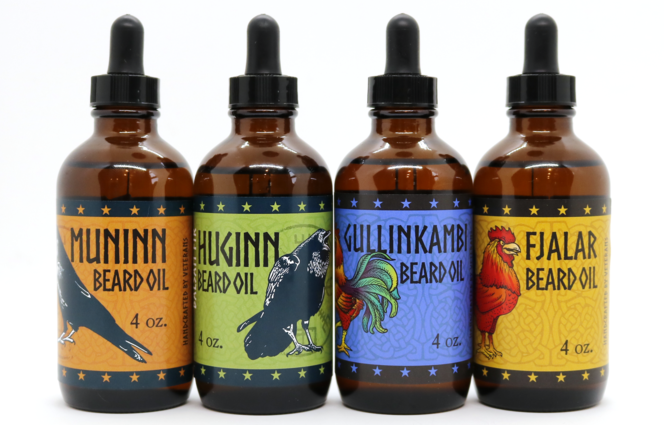 Our beard oils exist to help your beard stay hydrated and feel light without ever feeling greasy or heavy. They're ideal for taming your beard while providing an illustrious shine, making your beard look like the epitome of vitality. The more you apply, the shinier your beard will be!
We crafted all our beard oils to not only smell amazing, but to be easy on your skin. In fact, they work great as an aftershave oil thanks to their soothing properties. Some guys even use their favorite beard oil as a hair tonic, since it's packed with nourishing, all-natural ingredients for your hair and scalp like argan oil, almond oil, avocado oil, sunflower seed oil, and golden jojoba oil.
To use beard oil, you should gently shake the bottle before opening. Then use the dropper to drop the desired amount of oil into your palms. We find that two to five drops of oil works best. Then, rub the oil into your palms and apply to your beard.
Click here to see our current, best-selling beard oils!
Beard Balms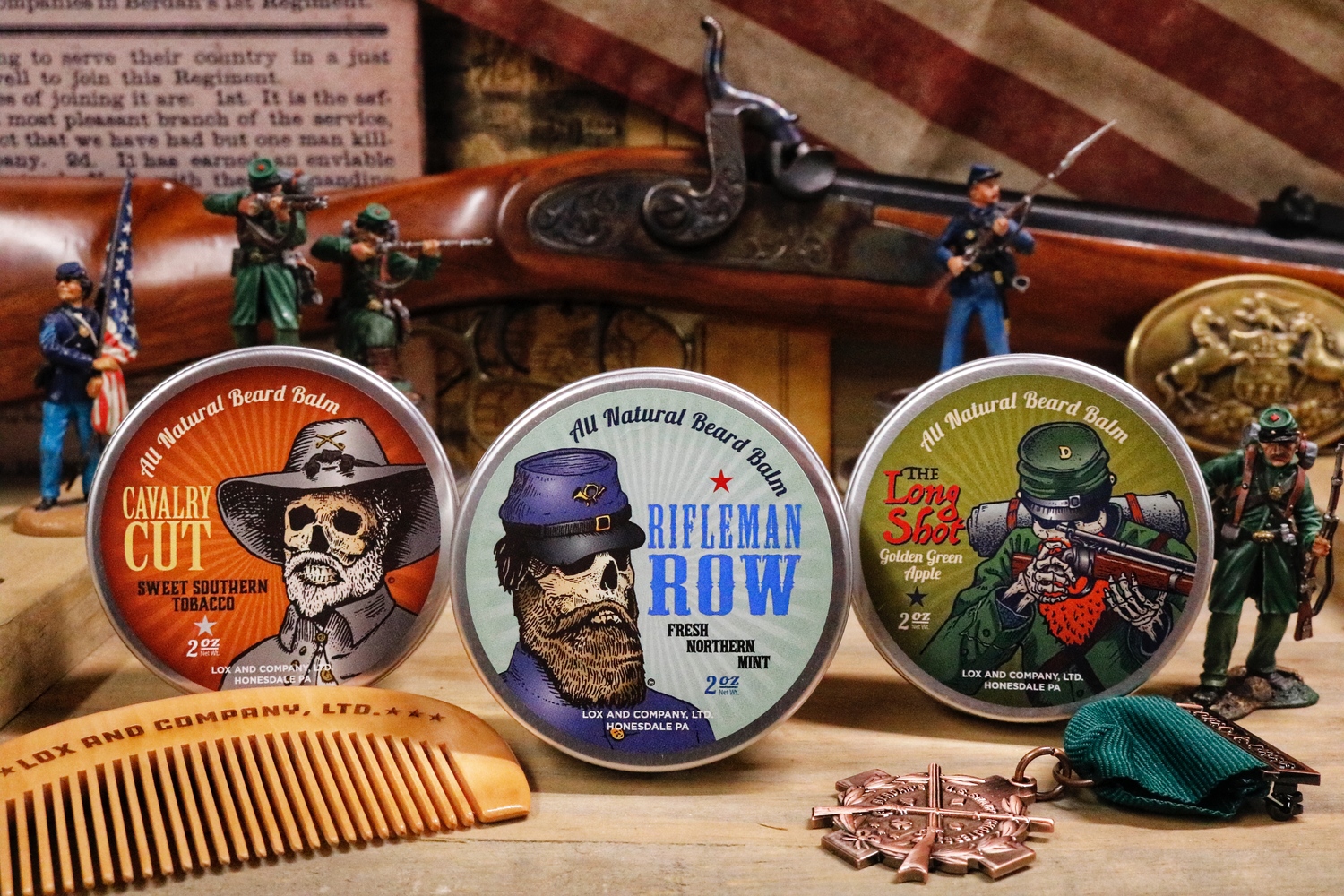 If you're looking to style and tame your unruly beard, then our beard balms are just what you've been looking for. Made with all-natural beeswax, our beard balms are guaranteed to help you control and style your beard while still having it feel lightweight, without the grease. Some people have dubbed them the "pomades of beard balms"!
Like all our products, beard balms from Lox are made with all-natural ingredients, hand-pouring every tin. We use ingredients that will hydrate and condition your beard and skin with some of the best scents you'll ever smell in a beard balm.
To use, scoop a small amount of beard balm from the tin and break it down in your palms until completely softened with no clumps. Then distribute throughout your beard with your hands, styling to your desired results.
Click here to see our beard balm varieties and scents!
Mustache Waxes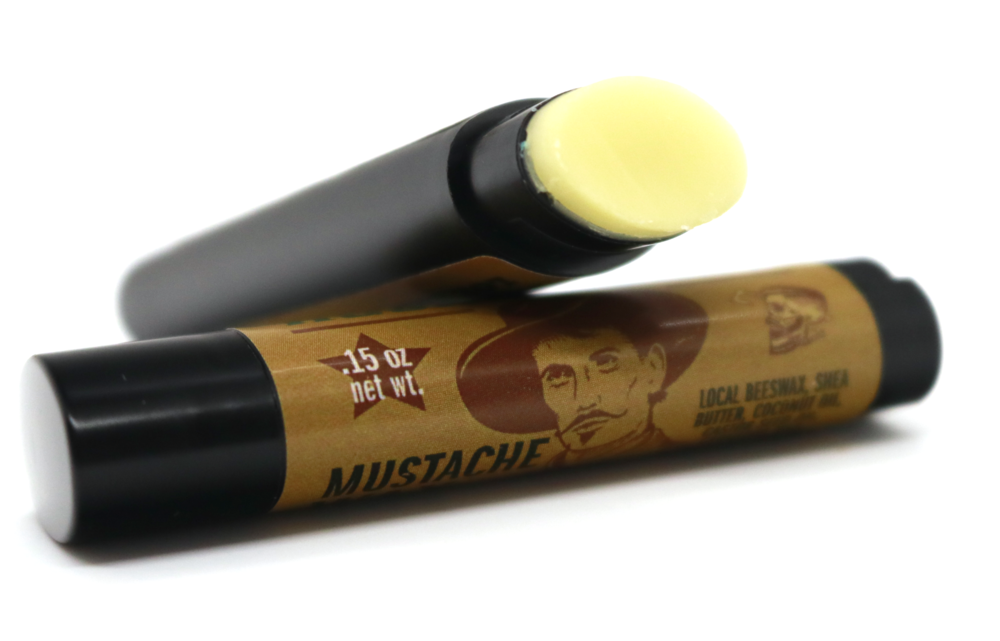 Your mustache deserves some attention, too. Unfortunately, it seems like a majority of the mustache products on the market are weak and hardly provide any value to your personal hygiene routine. That's why we made Lox mustache waxes to change the game.
Our mustache waxes are far from weak. In fact, we use straight up pine resin in our recipes — yep, you read that right! This ensures our mustache waxes hold your mustache in place, exactly as you want it to look. And since they come in either a tin or a stick (kind of like a stick of lip balm), you can enjoy styling your mustache in the way that suits you best.
Once you try one of our mustache waxes, you'll wonder how you ever lived without it! Click here to view our current mustache wax varieties!
Which All-Natural Facial Hair Care Product Will You Try?
Now that you know the options, the next step is yours to take. Will you go for the nourishing, shine-giving beard oils? Or will you tame your unruly beard with a beard balm? Or maybe you want to experience the smooth feeling of one of our beard butters or are looking to style your mustache with our powerful mustache waxes. The good news is that you'll be making a great choice, whichever product you choose.
Throw away those chemical-laced beard products you may have used before, and instead try one of our all-natural products. You and your facial hair (and your lady) will be glad you did!